1 on 1 Lessons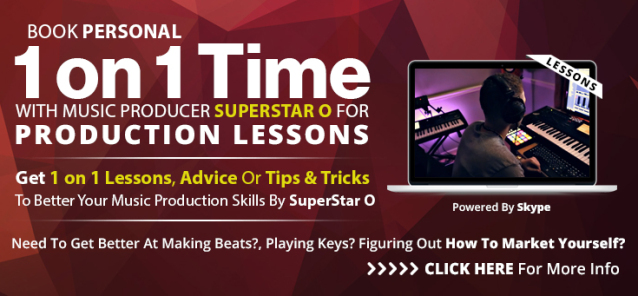 1 on 1 Production Lessons With SuperStar O
What Is It?
People Have Asked For A Service Like This From Me (SuperStar O) For A While Now & Here Is Is For You.
Basically So Many Producers Need Information, Or Want To Get Better, Want To Know How To Do This Or How To Promote That & They Look For That Information Or Someone Who Can Teach Them But Usually No One Can Or Those Who Can Won't. That's Where This Idea Came In At Which I Know Will Help Many Of You Reading This Once You Decide To Use The Service.
How Does It Work?
You Can Now Book Time With Me (SuperStar O) And PERSONALLY 1 on 1 Talk With Me For Many Things You Might Want. It Could Be Wanting Me To Show You How To Make Beats Better, How To Learn A Style Of Beats Or Chords, Advice On How To Promote Yourself & Music Better, Life Quesitons, Marketing Questions For Music Online & Anything Else Related To Music Production You Feel I Could Help With.
The 1 on 1 Session Would Be Booked & Would Run Through Skype Calls Via ScreenShare & Voice. I Can Then Show You Things & Or Talk Through As Well.
How Much Does It Cost?
I Wanted To Be Able To Charge A Cheap Price But Still Make It Worth My Time Since 30 Mins 1 Hour & So On Might Not Sound Like A Lot Of Time But As Most Of Us Know..It Is.
Basically You Can Choose To Book The Session With Me For 15 Mins, 30 Mins or 1 Hour. It's Basically Like Paying For Piano Lessons Or A Financial Advisor & So On Only It's With A Producer That Does What You Do & Has The Valuable Knowledge & Tools To Tell You About To Help You Grow As Well.
The Prices -
15 Min Session - $30
30 Min Session - $50
1 Hour Session - $100
How Can I Book Time?
To Book Time You Can Just Send Me A Email Inquiry & I Will Get Back With You Very Fast As Usual With Everythign Else & We Will Set It Up From There.
I Look Forward To Talking With You All & I Know This Will Help So Many Of You!!
The Email To Contact Me At Is Below.
Email - Info@IndustryKits.com
More Info.
Please Watch The Below Video For More Info On This Service.
There are no products to list in this category.